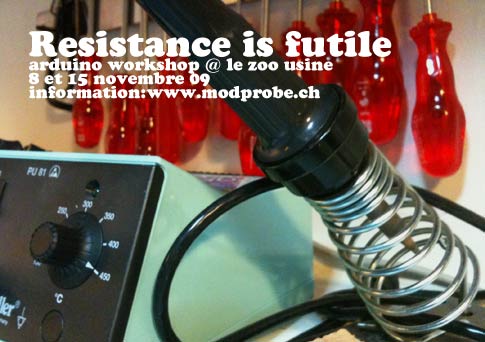 Lire ce billet dans la langue de Voltaire.
Read this post in Shakespeare's tongue.

Le spleen du dimanche d'automne n'est pas une fatalité, venez découvrir et apprendre à  utiliser les merveilles électriques de la plateforme arduino avec le allstar cast de modprobe.ch. A la soudure et robotique Theo Reichel, au platine du code Monsieur Java en personne Renaud Richardet, acompagné en exclusivité mondiale par le über-guru du C Philippe Vaucher en personne, finalement au support moral on trouvera le pousseur de pixel David Hodgetts. Le workshop s'adresse à  un large public, artiste et bricoleur du dimanche bienvenu.
Hard

Pour suivre le workshop dans les meilleures conditions, il faut amener un laptop (mac linux ou windows) et un kit arduino. Pour ceux qui le désirent, l'usine a 16 kits starter arduino à  vendre. Il est évidement également possible de venir avec son propre matos tant qu'il s'agit de la même plateforme (micro-contrôleurs ATMEGA8-168-328). Sur place, vous trouverez plein de composants marrants: moteurs linéaire ou pas à  pas, servos, LED puissante et moins puissantes, drivers de puissance, transistors, ICs en tout genre, bière etc. Dans le bordel et plus spécifiquement pour arduinos et artistes, module son (wave), module de puissance pour mécaniques, plaque de prototypage à  souder, module Xbee, etc.
Thunes

Entrée : 10 balles Kit arduino (optionnel) : 50 balles (Arduino Duemilanove 328, breadboard, composants divers, fils, voir ici pour le détail)
Lieu

Le zoo de l'usine
4 pl. des volontaires
1204 Genève
www.lezoo.ch
Programme

Samedi 7 novembre 2009, 10h-12h
Des-puces-lage : Balade sur la plaine de plainpalais à la recherche de matériel électronique pour occuper le workshop. Participants les bienvenus.
Rendez-vous à 10h00 à la roulotte (46.197929, 6.139324)
Dimanche 8 novembre 2009, 16h-20h
Premier workshop : introduction à la plateforme arduino
En gros :
30min intro, qu'est-ce que l'arduino, exemple d'utilisation.
30min installation sur les machines et clignotement d'une LED
1h presentation de projets connus
1h mini-workshop pour se faire les dents sur la plateforme
1h presentation de project modprobe et potes.
Samedi 14 novembre 2009, 10h-12h
Marché aux puces: Deuxième balade plus ciblée : circuit-bending, méchanique, électronique de puissance, etc.
Rendez-vous à 10h00 à la roulotte (46.197929, 6.139324)
Dimanche 15 novembre 2009, 16h-20h
Second workshop : Réalisation d'un projet arduino, présentation de projets hardcores
1h, présentation de projets poussés, de quoi faire rêver
3h, workshops les mains déliées avec le soutiens d'une équipe de 5 gars compétents, dans le domaine de l'électronique, de l'informatique et du lard.
Formulaire d'inscription

Nous avons a disposition 16 kit "Budget pack" d'adafruit industries. Pour réserver votre kit ou vous inscrire au workshop, merci de remplir le formulaire ci-dessous.
---
Resistance is futile @ the Zoo/Usine Geneva november 8 and 15 2009

No need to suffer from autumnal sunday spleen anymore… Come discover the electrical wonders of the arduino platform with the allstar modprobe crew: on the soldering iron and general robotics expert, Theo Reichel. Spinning and grooving, the one and only Mr Java, Renaud Richard, exceptionally assisted by the world acclaimed all time C über geek, Phillipe Vaucher. Finally, on general moral support, David Hodgetts the pixel pusher. The workshop is open to all. Artists and sunday do-it-yourselvers welcome !
Hard

To follow the workshop in the best consitions, you will need a laptop (mac, linux or win) and an arduino kit. Le zoo-usine has 16 arduino starter kits to sell for interested participants. Of course, it is also possible to come with your own chips as long as they are based on the ATMEGA8-168-328 family. Plenty of fun components will be available to play with: motors, leds, sensors, ICs, wave modules, etc.
Finance

Entry : 10 chf Arduino kit arduino (optional) : 50 chf (Arduino Duemilanove 328, breadboard see here for details).
Location

Le zoo de l'usine
4 pl. des volontaires
1204 Genève
www.lezoo.ch
Language of the workshop

The workshop is in french.
But if there is subscribers speaking only english, the workshop will be translated in live for them.
Program

Saturday november 7 2009, 10h-12h
Object-Hunting: Stroll around the plaine of plainpalais' s flea market on the look for electronic treasures. Workshop participants welcome.
Meeting point 10h00 @ "la roulotte" (46.197929, 6.139324)
Sunday november 8, 16h-20h
first workshop : introduction to the arduino platfom
30min intro, what is arduino , real world examples.
30min arduino hard and soft install and blinking led test. 1h case studies.
1h applied arduino examples.
1h modprobe project presentation.
Saturday november 14 2009, 10h-12h
Flea-market: The second stroll : circuit-bending, mechanics, power electronics, etc.
Meeting point 10h00 @ "la roulotte" (46.197929, 6.139324)
Sunday november 15 2009, 16h-20h
Second workshop : warm-up: production of an arduino project.
1h presentation of crazy hardcore skills projects
3h free-form workshop
Enroll here

We have 16″Budget pack" kits from adafruit industries. To order an arduino kit or to to book a seat for the workshop please fill in the following form.